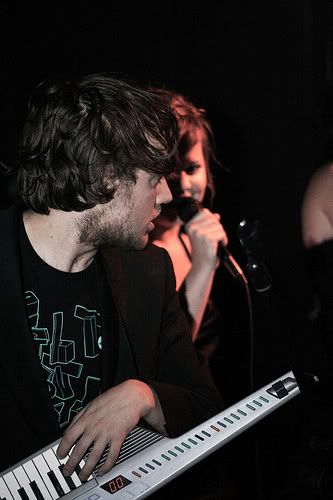 Modernaire describe themselves as a pop duo in Manchester. This doesn't really scratch the surface. Layers and layers of electro beats and samples, crafted by Oscar Wildstyle, are blended perfectly with the vocals of Cruella de Mill and the 101 Damnations - if you want a vague, completely throwaway, over the top description using other artists as reference points, I'd say it sounds like two Laura Marlings fronting CSS a hundred years ago. Make your own mind up though.


I love it when bands use names other than their own, I think it's fair to say that with the way the internet is with everybody having a myspace / facebook profile, illusions like this can easily be shattered. I'll leave the mystique in place for the time being.
Live, and I would assume on record, they have two vocalists who weave beautiful harmonies together about subject matter that I'd describe as occasionally a little bit gothic and a little bit Gallic (fitting given the electro aspect to their sound), tales of vagabonds soaked in gin and losing lovers under the table in the casinos of Monte Carlo (Faites Tes Jeux). I think this contrasts brilliantly with the futuristic sounds (live, a mixture of laptop, Microkorg and keytar) supporting the vocals, which makes for something intensely danceable. Even though the vocals are very easy on the ear, the combined effect still has quite a bite to it. They also manage to find the space for occasional string sections and mouth trumpets. I repeat, mouth trumpets.

According to their facebook group, 'Bloodshed in the Woodshed' is to be released later in the year on vinyl, along with a new EP. It is brilliant, has an incredible bridge or prechorus or whatever which can only be described as ridiculously tongue-twisting. I'm excited about the future for these guys. Go have a listen to it on their myspace. They have quite a few gigs coming up, mostly in Manchester, which include a gig at the Fighting Cocks in Kingston on 29th August, which I shall be attending. And they have a gig in Paris in October, which will be very interesting.

One more thing to add about these guys is that they do remixes…or rather Oscar Wildstyle does the all the electro wizardry with occasional vocals. They have done remixes for the likes of The Holloways, The KBC and the Hot Puppies. They also did one for the band I happen to front, Dirty Hands, and it sounds just wonderful. We had the pleasure of playing with them in Manchester at a gig put on by Bizarre Prostitution and it was mint - there was a stage invasion during Bloodshed. Respect to Jamila for putting that gig on, or I doubt I would be writing this. Anyway, I don't really want to talk about my band right now; I'll let other people do that if they want but figure I'll post this remix here anyway.
And if you like the softer side of Modernaire, check out the aforementioned Cruella and another project they're involved with called The Moulettes (moulette means something filthy in French, I can tell you that for free).
Dirty Hands – Vivid Imagination (Modernaire remix)
Modernaire – Faites Tes Jeux (myspace / buy / free downloads/mix)

p.s. I also have an awesome cover of Manu Chao's 'Je Ne T'Aime Plus'/'Bongo Bongo' by Modernaire lying around somewhere. If I can find it, I'll post it sometime.