I think it's important to distinguish between a live set and a DJ set. According to
various definitions
, live means something that's
actually being performed at the time of hearing or viewing
. This can raise issues when considering the performance of electronic music, as a DJ set could in its simplest form just mean playing songs in sequence, which isn't really performing anything per se. Skilful manipulation of tracks could be held in higher regard, as there is a clear eamount of technique involved.
Other definitions of live can allow for it to mean something that's
charged, or abounding with life and energy
. This you could easily apply to a DJ set, as the choice of tracks as well as the manipulation and mixing of them can clearly be done with this spirit in mind.
Maybe this isn't an important issue, as surely what is more important is whether the act, in the form of a DJ set or a live show, is actually any good.
Free stuff is good. People who say nothing in life is free haven't been out in Paris lately. On two occasions in the last few months, I have been out to see Simian Mobile Disco completement gratuit. Firstly at Le Showcase, where they delivered the full live show which was nothing short of mesmerising. They only played around ten songs but the way the spun them out through fucking everything up sonically in ways I cannot even begin to comprehend was really impressive. Of course, they also have the tunes, and the light show.
Simian Mobile Disco - It's The Beat (The Teenagers remix)
Last Sunday, I headed down to Caroussel du Louvre for a free show put on by Fornarina in aid of an urban beauty show - whatever that means! Queues were snaking almost all the way to the Mona Lisa for an hour or two before they let everybody in. Myself and my beautiful, urban friends wandered about a bit round various art exhibits and stuff before heading to the room with the soundsystem, and also free bar. Free bars, I've decided are good. Endless half pints with an hour in between is probably the right idea as it means that the whole room isn't completely and utterly smashed within a short period of time. It just takes longer, that's all.
New Young Pony Club warmed things up with a DJ set that pushed all the right buttons without really setting anything alight. In between NYPC and Simian, some DJs playing early 90's rave style stuff took to the decks, which was alright if not a bit of an anomaly. I wasn't really watching all of it, as there was a free bar and dancers and just lots of very urban, beautiful people (average rating about 8.5 for the room I think). Jas Shaw from Simian then appeared and played a sweet set which included a couple of Simian Mobile Disco tracks like the aforementioned
It's The Beat
, whilst mixing it up nicely, which I think is what a DJ should do. The set climaxed with
Erotic Discourse
by Paul Woodford which first blew my mind ages ago at The Key near King's Cross. It sounds like robots fucking.
Paul Woodford - Erotic Discourse
With regard to the whole live / DJ difference, I think it's worth mentioning Justice. I can't really see any major differences between their live and DJ sets, as even though their live sets do concentrate more on their own material, it's not exclusive. They don't use any extra equipment in their live set, and whilst their shows are incredibly powerful, I just don't see why they advertise it as live when it is just a DJ set with a load of amps to hide behind. Some people (my flatmate) argue that you could say the same thing about Daft Punk, but just on a bigger scale but I don't really agree. I just think that whilst Justice have better songs than Simian Mobile Disco, they could learn a thing or two about what really constitutes a live performance.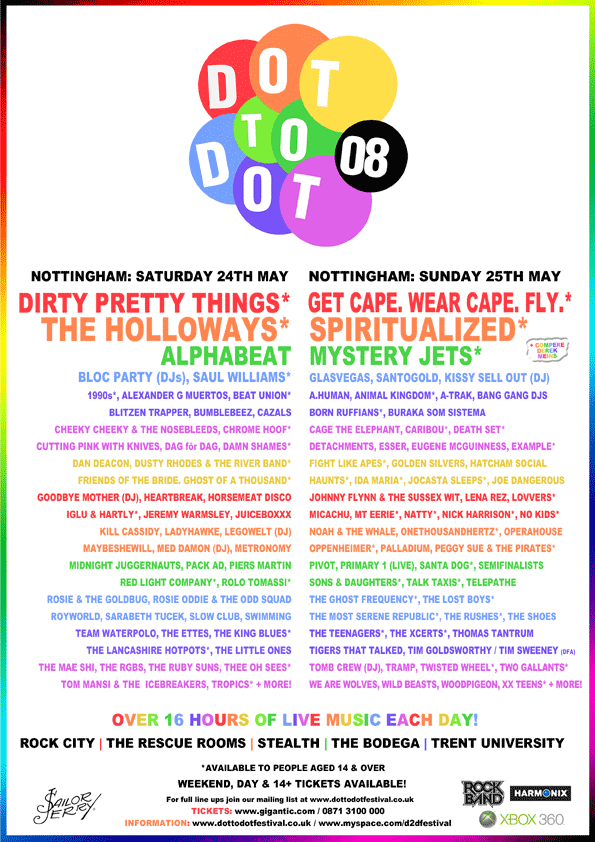 In other news.............this is happening this weekend in Nottingham.
Dot-to-Dot Festival
has steadily grown over the last three years (previous lineups here) into one of the finest one-town festivals around. Except now it's also in Bristol and has a one dayer in Hoxton. The quality of the lineup is brilliant. I'm hoping to catch Jeremy Warmsley, Mystery Jets, Noah and the Whale, Slow Club, Eugene McGuinness, Esser, Midnight Juggernauts and Kissy Sell Out to name but a few. The Sunday is the better of the two days, I might pop home to watch Sebastien Tellier perform at Eurovision. The strength and weakness I suppose of most festivals is that clashes are inevitable , and that sometimes, but not always, you end up stumbling onto an artist that otherwise you would never have come across. Another thing with these festivals is that the lineups change. When I bought my ticket a few weeks ago, Florence and the Machine is playing. Now she isn't, which I'm really not very happy about.
Will try and do a more comprehensive preview before the weekend, but if I don't have time then these MP3s will have to suffice.
Slow Club - When I Go
Midnight Juggernauts - Into The Galaxy