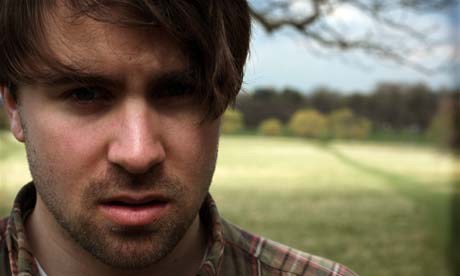 Jay Jay Pistolet
is the sound of Christmas coming early. He wraps his tender, heartfelt numbers up with his guitar-strings and coats them in layers of reverb, akin to sprinklings of cocoa powder on a cappucino. Chocolat chaud is his winter beverage of choice in
Hooked Up On Us
- an insistent song which refuses to give up on a relationship which has been and gone. His attention to detail, lyrically speaking, and feel for a good rhyme shine like lights twinkling out from November shopping displays. Rushing through chirpy descriptions of bygone days and future plans before choruses that rise through the daydreaming and lodge themselves inside your head and your clothes. These moments of clarity won't be gone until the decorations come down.
Jay Jay Pistolet - Happy Birthday You
Jay Jay Pistolet - Hooked Up On Us
///buy the EP from Pure Groove
Produced by Charlie Fink, he of Noah and the Whale, it features others members of that folkish troupe alongside the boy Warmsley. He played live last night. Kingston next week.