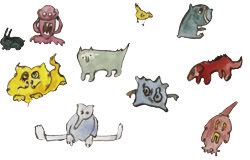 First Aid Kit
are from Sweden. They take out acoustic guitars. Around them wrapped tightly, you find voices oozing soul like butter. Their EP,
Drunken Trees
, has the quintessential Swedish spoken voice nothing chat a la Lykke Li at the start. Their music evokes Optimist LP era Turin Brakes, not a bad thing. It takes me back to GCSE Chemistry class.
Pervigilo
opens with a organ to lull you in before those voices come at you like fireflies. You think you're going to escape, you really do, the build-up is languid but then the line comes.
I can't help it. You're so beautiful.
First Aid Kit -
Pervigilo
I try to turn the CD off except it isn't a CD, it's iTunes. I'm in my living room with the lights off amd I can't see the keys. I just turn it louder as I stab at those F keys. Before I know it, my headphones are wrapped around my head. A moment of calm I could stick on repeat.